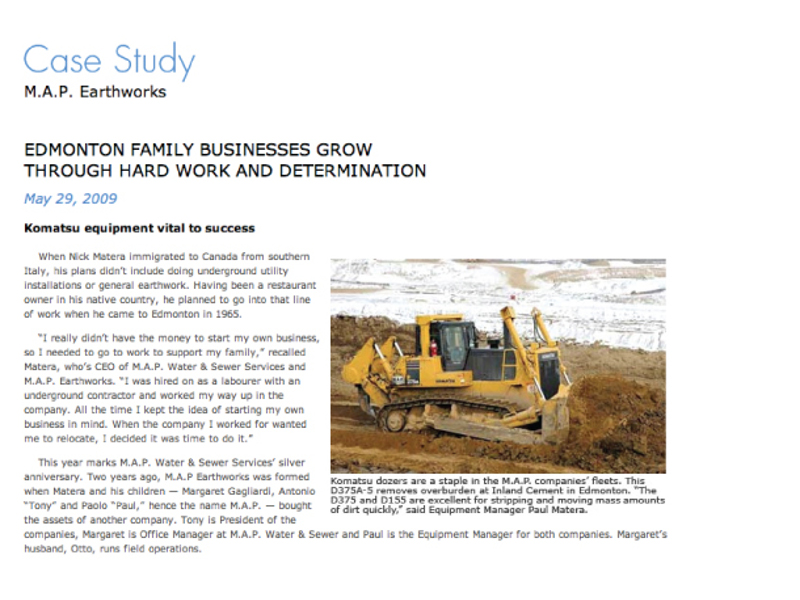 Case Study: M.A.P. Earthworks
EDMONTON FAMILY BUSINESSES GROW THROUGH HARD WORK AND DETERMINATION
Komatsu Equipment Vital to Success.
When Nick Matera immigrated to Canada from southern Italy, his plans didn't include doing underground installations or general earthwork. Having been a restaurant owner in his native country, he planned to go into that line of work when he came to Edmonton in 1965.
"I really didn't have the money to start my own business, so I needed to go to work to support my family," recalled Matera, who's CEO of M.A.P. Water & Sewer Services and M.A.P. Earthworks. "I was hired on as a labourer with an underground contractor and worked my way up in the company. All the time I kept the idea of starting my own business in mind. When the company I worked for wanted me to relocate, I decided it was time to do it."
This year marks M.A.P. Water & Sewer Services' silver anniversary. Two Years ago, M.A.P. Earthworks was formed when Matera and his children — Margaret Gagliardi, Antonio "Tony", and "Paulo "Paul", hence the name M.A.P. — bought the assets of another company. Tony is President of the companies, Margaret is Office Manager at M.A.P. Water & Sewer, and Paul is the Equipment Manager for both companies. Margaret's husband, Otto, runs field operations.
(Image: Komatsu dozers are a staple in the M.A.P. companies' fleets. This D375A-5 removes overburden at Inland Cement in Edmonton. "The D375 and D155 are excellent for stripping and moving mass amounts of dirt quickly," said Equipment Manager Paul Matera.)