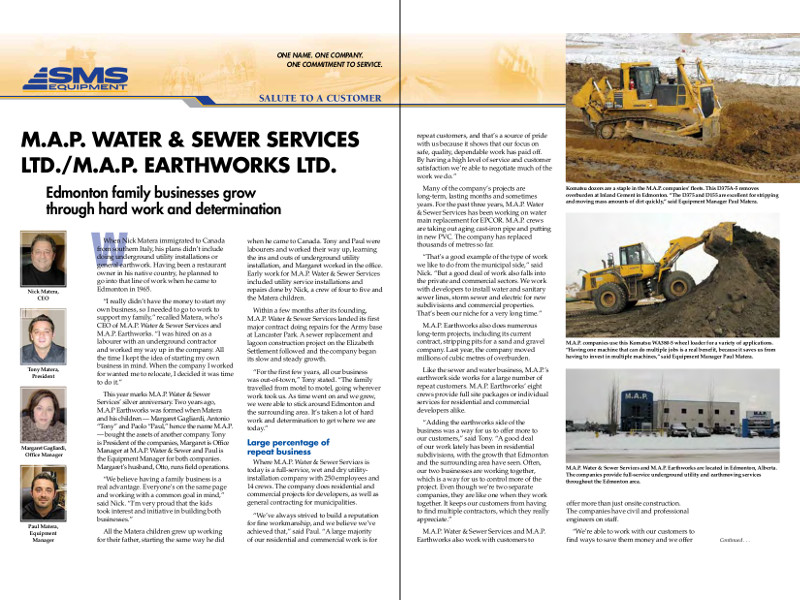 SMS Equipment: Salute to a Customer
When Nick Matera immigrated to Canada from southern Italy, his plans didn't include doing underground utility installations or general earthwork. Having been a restaurant owner in his native country, he planned to go into that line of work when he came to Edmonton in 1965.
"I really didn't have the money to start my own business, so I needed to go to work to support my family," recalled Matera, who's CEO of M.A.P. Water & Sewer Services and M.A.P. Earthworks. "I was hired on as a labourer with an underground contractor and worked my way up in the company. All the time I kept the idea of starting my own business in mind. When the company I worked for wanted me to relocate, I decided it was time to do it."
This year marks M.A.P. Water & Sewer Services' silver anniversary. Two years ago, M.A.P Earthworks was formed when Matera and his children — Margaret Gagliardi, Antonio "Tony" and Paolo "Paul," hence the name M.A.P. — bought the assets of another company. Tony is President of the companies, Margaret is Office Manager at M.A.P. Water & Sewer and Paul is the Equipment Manager for both companies. Margaret's husband, Otto, runs field operations.
"We believe having a family business is a real advantage. Everyone's on the same page and working with a common goal in mind," said Nick. "I'm very proud that the kids took interest and initiative in building both businesses."
All the Matera children grew up working for their father, starting the same way he did when he came to Canada. Tony and Paul were labourers and worked their way up, learning the ins and outs of underground utility installation, and Margaret worked in the office. Early work for M.A.P. Water & Sewer Services included utility service installations and repairs done by Nick, a crew of four to five and the Matera children.
Within a few months after its founding, M.A.P. Water & Sewer Services landed its first major contract doing repairs for the Army base at Lancaster Park. A sewer replacement and lagoon construction project on the Elizabeth Settlement followed and the company began its slow and steady growth.
"For the first few years, all our business was out-of-town," Tony stated. "The family travelled from motel to motel, going wherever work took us. As time went on and we grew, we were able to stick around Edmonton and the surrounding area. It's taken a lot of hard work and determination to get where we are today."
Large Percentage of Repeat Business
Where M.A.P. Water & Sewer Services is today is a full-service, wet and dry utility installation company with 250 employees and 14 crews. The company does residential and commercial projects for developers, as well as general contracting for municipalities.
"We've always strived to build a reputation for fine workmanship, and we believe we've achieved that," said Paul. "A large majority of our residential and commercial work is for repeat customers, and that's a source of pride
with us because it shows that our focus on safe, quality, dependable work has paid off. By having a high level of service and customer satisfaction we're able to negotiate much of the work we do."
Many of the company's projects are long-term, lasting months and sometimes years. For the past three years, M.A.P. Water & Sewer Services has been working on water main replacement for EPCOR. M.A.P. crews are taking out aging cast-iron pipe and putting in new PVC. The company has replaced thousands of metres so far.
"That's a good example of the type of work we like to do from the municipal side," said Nick. "But a good deal of work also falls into the private and commercial sectors. We work with developers to install water and sanitary sewer lines, storm sewer and electric for new subdivisions and commercial properties. That's been our niche for a very long time."
M.A.P. Earthworks also does numerous long-term projects, including its current contract, stripping pits for a sand and gravel company. Last year, the company moved millions of cubic metres of overburden.
Like the sewer and water business, M.A.P.'s earthwork side works for a large number of repeat customers. M.A.P. Earthworks' eight crews provide full site packages or individual services for residential and commercial developers alike.
"Adding the earthworks side of the business was a way for us to offer more to our customers," said Tony. "A good deal of our work lately has been in residential subdivisions, with the growth that Edmonton and the surrounding area have seen. Often, our two businesses are working together, which is a way for us to control more of the project. Even though we're two separate companies, they are like one when they work together. It keeps our customers from having to find multiple contractors, which they really appreciate."
M.A.P. Water & Sewer Services and M.A.P.Earthworks also work with customers to offer more than just onsite construction. The companies have civil and professional engineers on staff.
"We're able to work with our customers to find ways to save them money and we offer design-build services with our engineers," said Tony. "Not everyone offers that, so we believe it's an advantage for us and our customers."
Backbone of the Businesses
Nick appreciates the way the employees of the two companies work toward making each successful. He has always emphasized that M.A.P. employees are the greatest asset the companies have. Key individuals include Frank Vespi, Vice President of Operations for M.A.P. Water & Sewer Services, Mel Grant, Vice President/General Manager of M.A.P. Earthworks, and Otto Gagliardi, General Supervisor of M.A.P. Water & Sewer Services Ltd.
"Our employees are every bit as important to the companies' success as any one of our family members," said Nick. "They work hard to ensure our customers are happy. In businesses as big as M.A.P., we have to have people like that whom we can trust. Bottom to top, I believe we have the best in the business."
"In many ways we treat them as if they were a member of the family," added Tony. "We have get-togethers, give bonuses and invest profits back into the business to help support their future as well as ours. We can't say enough good things about them. They're the backbone of our businesses."
Productive Equipment is Key
The Materas also listen to their employees' input when it comes to buying equipment. During the past several years, that input has led to purchasing a large number of Komatsu machines, especially dozers. Between M.A.P. Water & Sewer Services and M.A.P. Earthworks, they have a D375A-5, a D61EX-15, a D155AX-6 and five D85EX-15s. All were purchased from the SMS Edmonton branch with the help of Sales Representative Jim Morrison.
"Production is the key to any business that does underground utilities and earthwork, and that means having reliable equipment that doesn't cost you in downtime," said Paul. "We've found that with Komatsu. We used to
run a lot of competitive machinery, and our operators were very loyal to that brand. Once they started running Komatsu, they quickly changed their minds.
"We put a lot of stock into what they say when it's time to buy new equipment, and that's been a big reason why we've continued to buy Komatsu," he added. "They like everything that Komatsu dozers offer. The D375 and D155 are excellent for stripping and moving mass amounts of dirt quickly. They don't stall out when pushing those big piles either. The D61 and D85s are very good for pushing smaller piles, grading and backfilling
trenches. They're all fuel-efficient, which helps in our cost per yard."
In addition to dozers, M.A.P. companies use three WA380-5 wheel loaders. Paul said he appreciates the versatility they offer.
"We can use them for a variety of tasks, including backfilling trenches with dirt and rock, loading trucks and carrying pipe with forks," he said. "Having one machine that can do multiple jobs is a real benefit because it saves us from having to invest in multiple pieces. They have good digging power and traction into a pile. The operators like the visibility and the comfort. They're all-around good machines."
SMS Service Makes a Difference
The M.A.P. companies also rent Komatsu equipment from SMS as needed, including additional dozers, as well as excavators and articulated dump trucks.
"Every piece of Komatsu equipment we've used has done the job for us," claimed Paul. "So has SMS — in all aspects of purchasing and renting equipment. SMS has been able to get us the machinery we need and the service we expect in a timely manner, something that's been an issue with other equipment dealers in the past. Our mechanics do most of the service work on our machines, but from time to time we need extra help. Jim and SMS have always been quick about getting to us. They're available day and night, and they've become a partner in our success."
Always Looking Ahead
As the Materas celebrate 25 years of business for M.A.P. Water & Sewer Services, they're not just looking back at what's been accomplished. The family's focus is on the future.
"We certainly are proud of what we've accomplished," said Nick. "It's nice to drive around and look at projects we've done with the thought in mind that we've played a big role in the area's growth. But we can't keep our attention on that. The companies must always look ahead."
"Our aim is to continue building M.A.P. Earthworks the same way we built M.A.P. Water & Sewer Services, little by little," said Tony. "We're ambitious, we want to grow, and there's a good chance of that happening, with the construction market in Edmonton and Alberta being as strong as it is.
"However, we won't lose our focus on customer satisfaction," he continued. "No matter what size our companies are, that will always be the most important aspect of our business, and of course our employees."