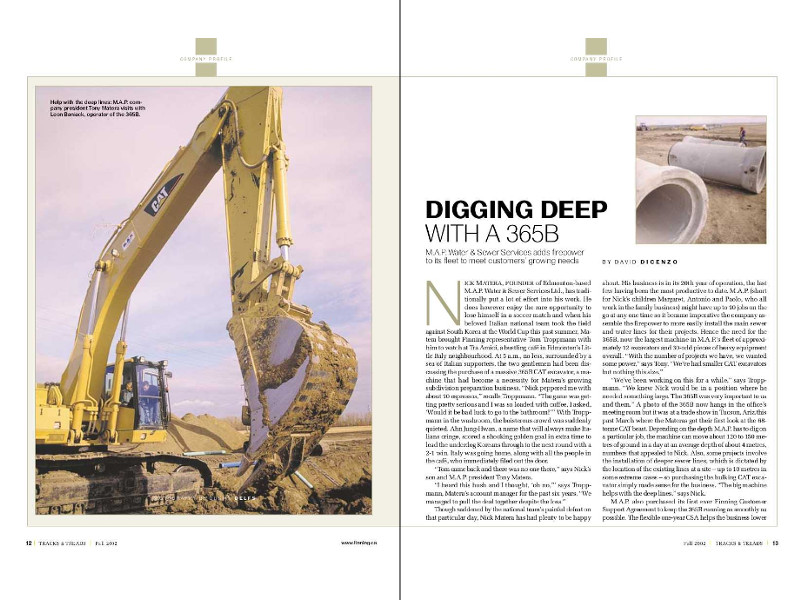 This article was originally published in the Fall 2002 "TRACKS & TREADS" Magazine, published by Venture Publishing, on behalf of Finning Canada.
BY DAVID DICENZO
NICK MATERA, FOUNDER of Edmonton-based M.A.P. Water & Sewer Services Ltd., has traditionally put a lot of effort into his work. He does however enjoy the rare opportunity to lose himself in a soccer match and when his beloved Italian national team took the field against South Korea at the World Cup this past summer, Matera brought Finning representative Tom Troppmann with him to watch at Tra Amici, a bustling café in Edmonton's Little Italy neighbourhood. At 5 a.m., no less, surrounded by a sea of Italian supporters, the two gentlemen had been discussing the purchase of a massive 365B CAT excavator, a machine that had become a necessity for Matera's growing subdivision preparation business. "Nick peppered me with about 10 espressos," recalls Troppmann. "The game was getting pretty serious and I was so loaded with coffee, I asked, 'Would it be bad luck to go to the bathroom?'" With Troppmann in the washroom, the boisterous crowd was suddenly quieted. Ahn Jung-Hwan, a name that will always make Italians cringe, scored a shocking golden goal in extra time to lead the underdog Koreans through to the next round with a 2-1 win. Italy was going home, along with all the people in the café, who immediately filed out the door.
"Tom came back and there was no one there," says Nick's son and M.A.P. president Tony Matera.
"I heard this hush and I thought, 'oh no,'" says Troppmann, Matera's account manager for the past six years. "We managed to pull the deal together despite the loss."
Though saddened by the national team's painful defeat on that particular day, Nick Matera has had plenty to be happy about. His business is in its 20th year of operation, the last few having been the most productive to date. M.A.P. (short for Nick's children Margaret, Antonio and Paolo, who all
work in the family business) might have up to 10 jobs on the go at any one time so it became imperative the company assemble the firepower to more easily install the main sewer and water lines for their projects. Hence the need for the 365B, now the largest machine in M.A.P.'s fleet of approximately 12 excavators and 30-odd pieces of heavy equipment overall. "With the number of projects we have, we wanted some power," says Tony. "We've had smaller CAT excavators but nothing this size."
"We've been working on this for a while," says Troppmann.
"We knew Nick would be in a position where he needed something large. The 365B was very important to us and them." A photo of the 365B now hangs in the office's meeting room but it was at a trade show in Tucson, Ariz. this past March where the Materas got their first look at the 68- tonne CAT beast. Depending on the depth M.A.P. has to dig on a particular job, the machine can move about 120 to 150 metres of ground in a day at an average depth of about 4 metres, numbers that appealed to Nick. Also, some projects involve the installation of deeper sewer lines, which is dictated by the location of the existing lines at a site – up to 10 metres in some extreme cases – so purchasing the hulking CAT excavator simply made sense for the business. "The big machine helps with the deep lines," says Nick.
M.A.P. also purchased its first ever Finning Customer Support Agreement to keep the 365B running as smoothly as possible. The flexible one-year CSA helps the business lower costs by offering a thorough, planned approach to servicing the excavator, while also establishing a pre-determined price for necessary repairs. "It makes it easier on us," says Tony. "It's more convenient." The machine will be used about 2,000 hours a year and is serviced at intervals of every 250 hours of operation. "All they have to do is put the operator in it, fill up the fuel and grease it – we do all the rest," says
Troppmann.
When you understand that Nick started his company 20 years ago driving around in a blue, 1978 T-bird with just a wheelbarrow and a shovel, the acquisition of the large CAT machine is all the more impressive. M.A.P. now employs over 100 people but in the early days, it was the elder Matera's determination that kept the small business alive.
He was born in Potenza, Italy, a town four hours south of Rome, one of eight children. Matera ended up spending a few years in Germany in order to learn the sewer and water business before traveling to Edmonton. When he arrived in Canada back in November of 1965, Matera proceeded to take on a string of construction jobs throughout Alberta with the hopes of moving up in the industry. He did precisely that, going from pipe layer to foreman to superintendent but the work days were long, sometimes lasting up to 18 hours. Back in Italy, his family had to work hard to survive so Matera was fully prepared to put in lots of time. He eventually decided he wanted to open up his own business, a goal that was met with laughs from some fellow workers. According to Nick, they thought he was a "dreamer." They were actually correct. Having come from poverty, Matera did dream but he also had the desire to see it through and by 1983, M.A.P. Water &
Sewer Services had secured its first contract.
Working from an office in the basement of his North end home, Nick attempted to grow the business but he faced some difficult economic times, especially in the mid 1980s and again in the early 1990s. He did consider packing the whole thing in but the optimist in him said it would get better. "It was my dream," says Matera. "I knew in my heart I would never shut down."
It's a good thing he trusted his instincts because M.A.P. has benefited greatly from the current Alberta boom. Matera's business began to pick up in 1996 and by the following year, the exponential growth had begun. Business has essentially tripled in the last five years. In 2000, M.A.P. worked on 36 different jobs and another 32 in 2001, including a few major projects with large corporations like Epcor. And the success has continued on in 2002. "This has probably been our busiest year," says Tony, the man responsible for the company's books.
M.A.P. is now one of the larger players in Alberta's water and sewer industry and the immediate future looks as bright as the past five years have. The city's expansion has meant an abundance of jobs and Matera is working from a position of strength because of the solidarity within the company. Originally, the goal was to establish a family business, but despite the fact M.A.P. has grown far beyond that, the same type of trust exists among this group. Daughter Margaret is the company's controller and son Paolo the dispatcher. Tony, like his father in the past, has steadily moved up in the business beginning as a labourer in 1990, becoming both the safety and project co-ordinator in 1995 before taking on the duties of president four years ago. The second youngest of the three Matera children, at 27, Tony says there is also a strong collection of young foremen and workers employed by the company, which keeps the energy level up at M.A.P. Given the amount of work it has seen in recent years, that exuberance is not only beneficial, but necessary. An emphasis on having reliable equipment like the CAT 365B has also been a key component of M.A.P.'s success. "Our equipment is fairly new and we always upgrade it," says Tony.
"The performance of that equipment has really helped our growth, too." Even with such a determined group of people and top-notch machines surrounding him, the founder still likes to keep himself right in the middle of a project, preferring a hands-on approach. "He's not afraid to get down in a ditch and direct," Troppmann says of his long-time client.
After all, Matera figures the most important thing he has learned in the 37 years that have passed since leaving Italy is to "try to save any penny you can and work hard." That philosophy has put the M.A.P. owner in a position where he can enjoy a lot of the simple things in life. Matera is almost as passionate about his garden (annually filled with beautiful tomatoes and hot peppers) and making wine as he is about the water and sewer business. Though he left his homeland a poor man, he now returns to Italy three times a year for visits.
Now if only the Italians could win the World Cup in 2006.